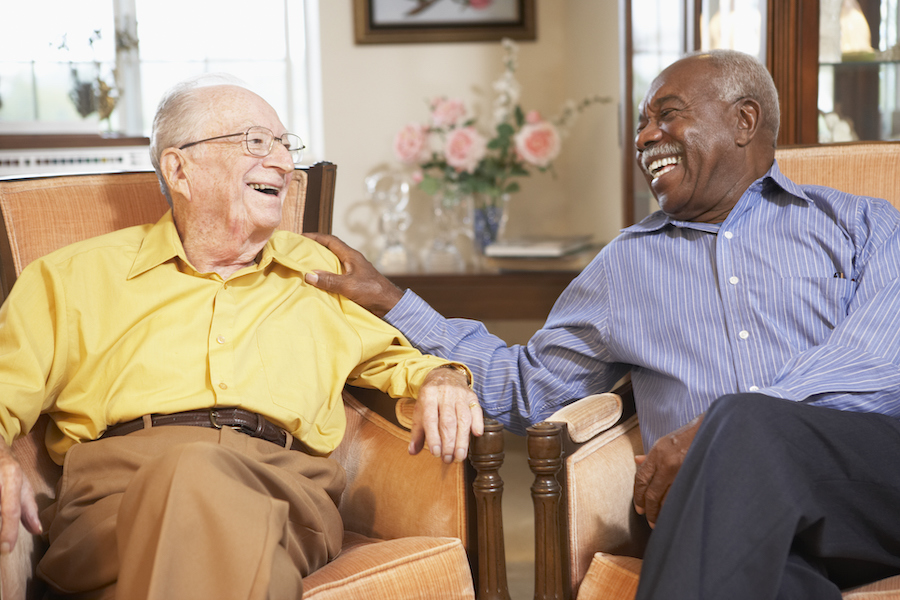 One of the best ways for older adults to improve their physical health, mental well-being and overall happiness is by socializing and making new friends. Studies show friendships and socialization benefit older adults' health in a variety of ways, including:
A longer lifespan
Friendships can play an important role in helping seniors live longer. Having close social ties can strengthen the immune system, lower blood pressure, and reduce the risk of heart disease, diabetes and stroke.
Motivating healthy habits
A good friend can also be a good influence! Friends can help encourage one another to stick to healthy habits, maintain an active lifestyle and keep an eye on each other's mental and physical well-being.
Fighting loneliness and depression
Studies show that loneliness is a leading cause of depression in older adults. Avoiding isolation, getting involved in social activities and pursuing friendships can play a positive role in helping seniors maintain the connections necessary for good mental health.
Protecting cognitive health
Neuroplasticity means that, throughout a lifetime, the brain can continue changing, reorganizing and creating new neural pathways. The social interaction associated with new friendships helps to change the brain, strengthen memory and improve cognition.
When it comes to building a social circle, life in a senior living community improves the chance of making friends and meeting new people. Residents need only walk outside their apartment door to feel like part of a close-knit community — and to encounter opportunities to meet people. In this way, senior living communities offer so much more than just a place to live and find help when and if it's needed — they're places where residents can make connections, explore activities, and share experiences.
At Arbor View Senior Living, not only do residents have a healthy community of peers to connect with — they also have a wealth of resources at their fingertips: the tenured team members support their health and fitness goals, the life enrichment director organizes engaging social, cultural and educational activities, and the wellness director oversees their personal wellness plan. Residents also have access to a range of quality amenities and services, including an exercise space and wellness center, an on-site chef to prepare healthy meals, a beauty salon and a library. With spacious and comfortable indoor spaces to gather, walk-out patios and outdoor seating with views atop Hackberry Hill, residents have many opportunities to socialize with their friends and neighbors.
Considering a move to senior living for yourself or a loved one? Call 303-268-4747 or contact us online to learn more about our studio and one-bedroom apartments and how moving to Arbor View offers seniors access to a built-in community of friends.