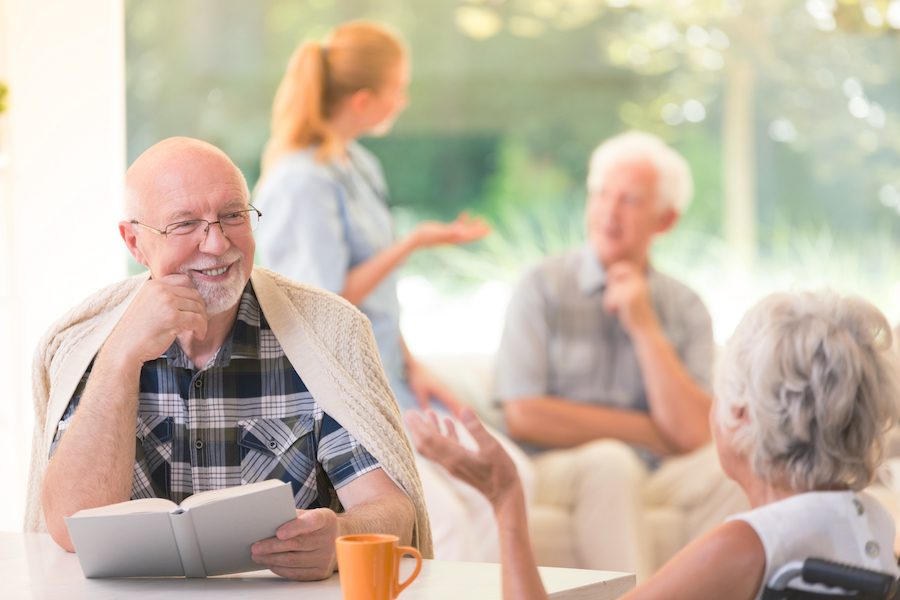 If you are looking to "rightsize" your retirement, moving to a senior living community offers benefits you just can't get if your only focus is finding an apartment with maximum square footage.
In her book RightSizing: A Smart Living Guide to Reinventing Retirement, Kathy Gottberg defines "rightsizing" as "the conscious choice to create a life and a lifestyle that more sustainably aligns with your unique self in the best possible way at every stage." In essence, you can create a more fulfilling life by making changes to align your lifestyle — the way you spend your time, energy, and money — with your highest priorities and values.
Many senior living communities offer studio and one-bedroom apartments. For many older adults, this offers plenty of space to personalize yet still access what they came to the community for in the first place – opportunities for socialization and caring support. Although it may seem counterintuitive, downsizing to a smaller space can actually help seniors lead a more fulfilling, "upsized" lifestyle that offers myriad benefits, including:
More free time.
Home upkeep can be stressful and costly, but senior living apartments offer a more streamlined space that is easier to clean and maintain, giving residents more time to spend however they like. Seniors seeking an active lifestyle will benefit from a community's on-site health and wellness programs, while those who prioritize friendship will appreciate the social aspects of joining a community. Seniors looking to spend more time on their personal hobbies will enjoy having access to activities, clubs, classes, and events designed to satisfy many interests.
More practical space.
Apartments at senior living communities feature just the right amount of space for residents to choose the furniture and decor that means the most to them. A rightsized space with streamlined aesthetics that includes only what you really love and truly need to be comfortable can help reduce the stress sometimes caused by having too much space and stuff to manage all the time. Our team can help ease the relocation process by providing a detailed floor plan with measurements to help you visualize how to decorate your new home.
Supportive care services.
At senior living communities, residents have access to a range of healthcare tools and services if, and when, they need it, including fitness equipment, a personalized care plan, and skilled nursing. These benefits can be especially helpful for senior homeowners who find it too costly to hire a home health aide, or who would simply like the peace of mind easy knowing they can easily access care when they need it.
Choose how you live.
In communities like ours, residents spend most of their time at activities, gathering with friends in common areas like the theater, the library our many outdoor patios with comfortable seating, the dining room, or venturing out into the community at large. Residents can always retreat to their private residences for some quiet time, but nobody has to be alone if they don't want to. As resident Laura H. who runs our Bible Buddies group says, "I'm never lonely because I can just go down the hall and visit someone."
By rightsizing to a smaller space, seniors who sell their homes and move to a retirement community get so much more than just an apartment. Communities like Arbor View Senior Living provide welcoming common spaces for residents to gather with friends to share meals and conversation, a robust schedule of social, cultural, and educational activities, and more. With all this at their fingertips, residents come to see that living space size is just a portion of the equation for happiness and that sometimes less is more.
Ready to "rightsize" your retirement? Call 303-268-4747 or visit our website and schedule a personalized tour to see for yourself everything our community has to offer.