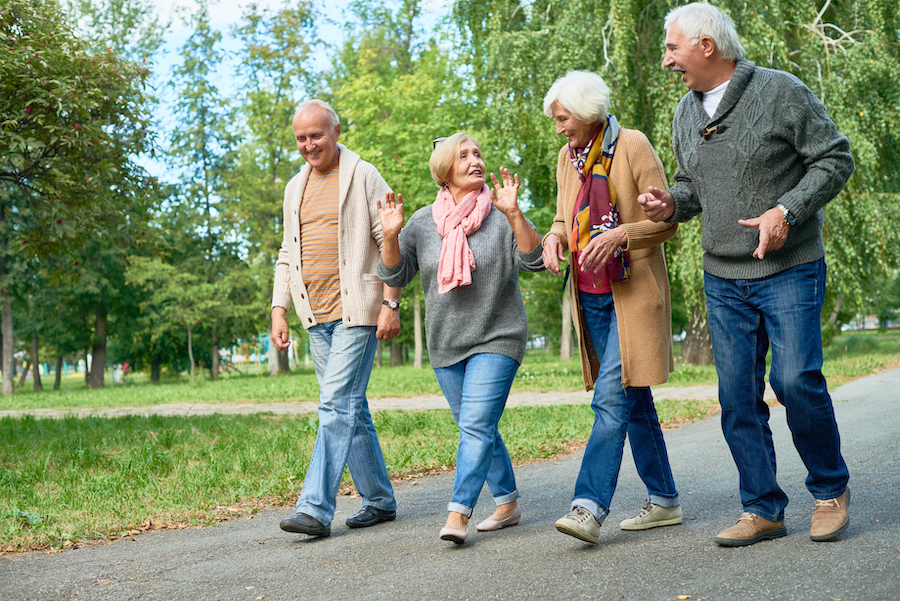 As we age, staying active becomes increasingly important to maintaining our overall health and well-being. One of the most accessible and enjoyable ways to stay active is by walking. This timeless exercise has numerous benefits without being too strenuous on our bodies.
For example, a recent article from The New York Times highlighted how even walking 4,000 steps a day can reduce the risk of cardiovascular disease. In addition, Elaine LaLanne's recent article, "Secrets to Lifelong Fitness," highlights the profound advantages of walking for seniors.
At Arbor View, we're especially grateful to be nestled in the heart of a serene and tranquil neighborhood where walking is so convenient. Let's explore the benefits of walking and how it can help you maintain a healthy lifestyle.
1. Convenience:
Walking is the cornerstone of healthy living. It offers numerous benefits without having to make the trip to the gym. With a good pair of shoes, and perhaps a cane or walker for added stability, walking promotes wellness and enhances mobility.
2. Enhances Physical Health:
Walking is a low-impact exercise that's gentle on the joints, making it an ideal choice for seniors. It improves cardiovascular health, helps maintain a healthy weight, and lowers the risk of heart disease and diabetes. The great news is that it doesn't require 10,000 steps either. A recent 7-year study demonstrated that participants who walked just 3,867 steps a day decreased their mortality by 15%.
3. Mental Well-Being:
Regular walks in peaceful neighborhoods can help reduce stress, alleviate symptoms of anxiety and depression, and boost overall mental well-being. Such calming atmospheres offer the perfect environment for relaxation. It's a wonderful way for residents to clear their minds and find tranquility amidst nature.
4. Social Connections:
Walking provides an excellent opportunity for social interaction. Residents can form walking groups and enjoy the company of their neighbors all while leisurely strolling through the quiet streets. This not only promotes physical health but also fosters a sense of community and camaraderie among residents, helping us build stronger connections with each other.
Finally, for the days when the weather doesn't cooperate, there is the convenience of indoor walking. Our well-lit hallways allow residents to stay active and maintain their walking routines regardless of the conditions outside.
The benefits of walking for seniors are undeniable. At Arbor View, we're committed to promoting an active and healthy lifestyle for our residents. With the advantage of our peaceful surroundings and the option to walk indoors, staying active has never been more convenient or enjoyable.
Want to learn how residents at Arbor View stay active? Call 303-268-4747 or visit our website and schedule a personalized tour to see for yourself everything our community has to offer.