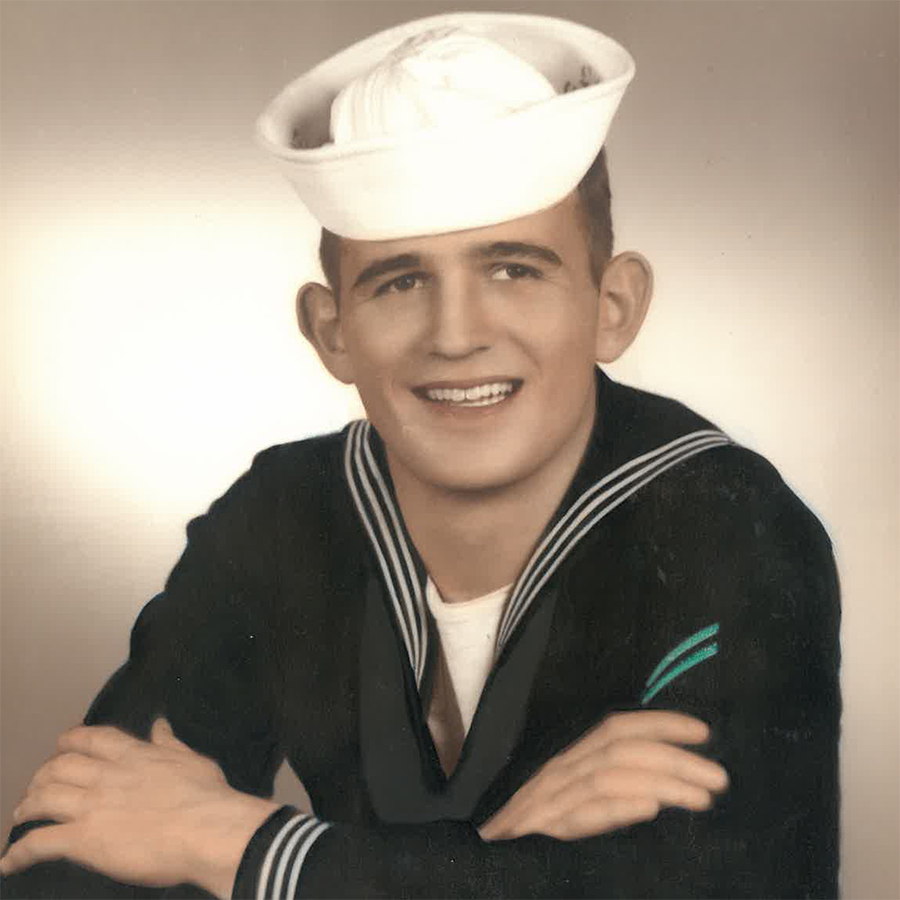 November is a time to reflect and give thanks to our friends, family, and our nation's veterans. Arbor View Senior Living is honored to have several retired veterans and their spouses living at our veteran-proud retirement community. One of those residents is Ray, who served in the United States Navy.
Setting Sail
Ray's military journey began in the spring of 1953 when he underwent a pre-induction physical. At the time, he faced a choice: join the Army or seek a different path. Ray had a clear preference — he'd rather be in a warm bed than a muddy trench. So when the Navy offered to induct him on July 5, 1953, he seized the opportunity.
After completing boot camp, Ray was shipped to Norman, Oklahoma, where he was responsible for cooking for his fellow sailors. This 13-week stint paved the way for his next assignment – airman training, which lasted an additional 13 weeks. After completing his training, Ray got to choose a specialty and he opted for photography, attending a three-month course in Pensacola, Florida.
Washington, D.C., and Beyond
Ray's military service took him to the nation's capital, Washington, D.C., from 1954 to 1957. During this time, he was involved in photographic imaging to test the structural integrity of various objects. This work included capturing high-speed images of airplanes flying at 600 mph and simulating scenarios involving buildings and other structures. It was during this time that he married his wife and witnessed President Dwight D. Eisenhower's inauguration.
Ray retired from the military on July 5, 1957, and started a new chapter in Kansas. He went on to earn a bachelor's degree in accounting and worked for the State of Colorado from 1961 to 1990 after passing the Certified Public Accountant (CPA) exam.
Life at Arbor View
In June 2023, Ray moved to Arbor View following his adult children's suggestion. They researched various retirement communities and chose Arbor View for its exceptional value and commitment to providing an enriching environment for residents. Ray shares how the chef-prepared meals, tacos and pork sirloin specifically, are some of his favorites to enjoy with his wife with whom he shares an apartment.
"We enjoy lunch and dinner and scheduled rides to medical appointments together. We always go to each other's appointments, every time," says Ray.
In addition to the amenities and supportive services, Ray appreciates the exercise classes at Arbor View, noting, "I enjoy them because I can work on my balance when moving around — it's important to keep yourself steady."
Ray has also found camaraderie with fellow neighbors, like his friend Tom, who served in the United States Army. The men connect through their shared experiences of service and sacrifice.
Arbor View's team members support residents with military backgrounds by helping them learn about, and apply for, the Veterans Administration's Aid and Attendance benefit.* Designed to provide financial assistance to veterans and their spouses who need assistance with activities of daily living, this financial benefit can significantly offset senior living expenses.
This Veterans Day, we salute Ray, Tom, and all the brave men and women who have selflessly served our country and preserved the freedom and security we all cherish.
Are you or someone you know a veteran or surviving spouse in search of a senior living community? Call 303-268-4747 or visit arborviewsl.com to schedule a personalized tour and learn more about what Arbor View's veteran-proud community offers.
*Please note that Arbor View cannot determine eligibility for Veterans' Benefits; only the Veterans Administration can determine an applicant's eligibility.