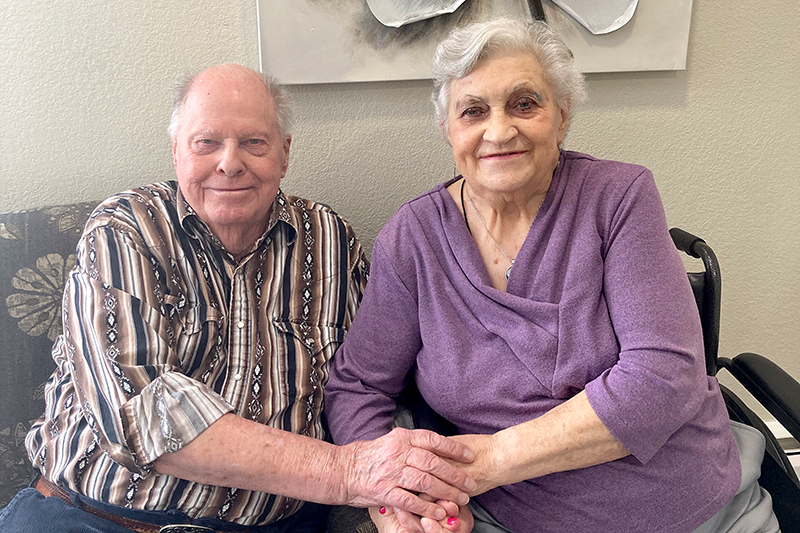 Arbor View Senior Living residents Bob and Flossie Rowley will celebrate their 73rd wedding anniversary in August. The couple quickly fell in love after their first date and following a whirlwind courtship, embarked on their life together. Along the way, they faced challenges but always stayed connected by holding on to their faith in each other and God.
Flossie's brother introduced her to Bob at a Youth for Christ event in Denver. They were very active in their respective churches and after encountering each other a few more times at faith-based events, Bob asked Flossie out on a date.
"We went rolling skating, something very popular then, and had a very good time. I was definitely interested in a second date," said Flossie. As luck would have it, Bob was too and two months later, he proposed!
The couple opted for a simple ceremony wearing matching navy blue suits instead of traditional wedding attire. They soon started a family and Bob was offered a job in Kansas, so they packed up their belongings and headed east. The position didn't work out and the couple soon found themselves back in Denver where Flossie gave birth to the first of their six children.
In 1957 Bob, who had served in the National Guard, volunteered for the draft and was stationed in Chicago so the family left Colorado again. After Bob was discharged, they returned to Denver and became members of Youth for Christ again and the whole family was very active in their church.
When most of the children were grown, Bob and Flossie, who had always enjoyed camping, purchased a KOA campground in Strasburg, Colorado, and started a new life there. Disappointed when their business venture did not work out as they hoped, the couple left it behind and started new careers back in Denver until they decided it was time to retire and made their way to Arbor View drawn by the beautiful views all around and the many services and amenities it offered.
Bob and Flossie's marriage remains strong thanks to their devotion to each other and their faith in God.
"Bob still tells me he loves me often and we have always tried to put God first in all things. By trusting in the Lord we are able to keep going strong," said Flossie.
Bob and Flossie's love story is inspiring and we will continue supporting them with everything they need to enjoy their lives here. Our community is ideal for singles and couples with modern studio and one-bedroom apartments and services and amenities that can be customized to meet residents' individual needs. Our community calendar offers a variety of activities and events for couples to socialize with other couples but also pursue their individual hobbies and interests.
If you and your spouse/partner are looking for the ideal place to retire, come see everything our community has to offer in services, amenities, and lifestyle. Call 303-268-4747 or visit our website to schedule a personalized tour.