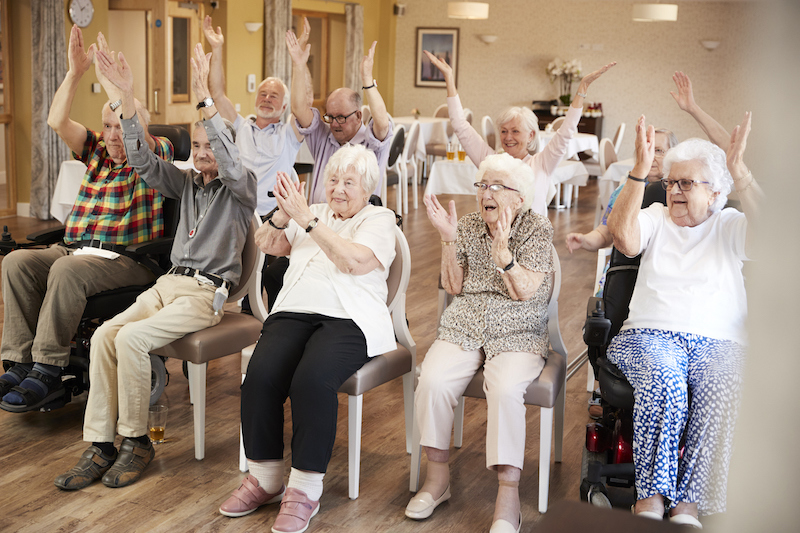 Working up a sweat on a regular basis is important at any age but becomes even more essential to overall health as we get older. Seniors who exercise regularly are more likely to stay mobile as they age and are less susceptible to falls, arthritis, osteoporosis, heart disease, hypertension and other illnesses. It also helps ward off cognitive decline: a recent study found regular exercise reduced the risk of developing Alzheimer's disease or dementia by nearly 50%.
Older adults can gain significant benefits just by exercising moderately on a regular basis, and at Arbor View Independent and Assisted Living, we are equipped with a designated wellness center where residents have the equipment and support to reach and even exceed their fitness goals. Arbor View offers access to some of the most popular and beneficial exercise regimes for seniors, listed below, to help our residents stay active, independent and prevent injuries.
Walking
Walking promotes a healthy lifestyle, while strengthening muscles and lowering your risk of heart disease, stroke, diabetes and colon cancer. It's also one of the least stressful and most accessible forms of exercise there is. Whether you're on one of our treadmills in our fully equipped wellness center or touring our beautiful grounds, Arbor View offers all the resources you need to make walking your preferred form of fitness.
Stationary bicycles
Stationary cycling is a great form of aerobic exercise and doing it doesn't exert any significant impact on your joints, so there's a minimal chance of injury. At Arbor View, our wellness center features recumbent exercise bikes with an ergonomic seat and backrest for extra support, so residents can pedal while sitting comfortably.
Chair yoga
Chair yoga is a low-impact form of exercise that improves muscle strength, mobility, balance and flexibility but provides less stress on muscles, joints, and bones than more conventional forms of yoga. Chair yoga classes, which are offered at Arbor View, have been shown to improve mental health in older adults. In fact, regular participants have better quality sleep and lower instances of depression.
At Arbor View Independent and Assisted Living, we're committed to helping our residents live well and age well. We hear regularly from residents who enjoy our fitness center and designated wellness programming, full calendar of events and activities, support from our caring team, companionship with peers and more. If you have questions about what our community offers, call (303) 403-3129 to speak a member of our team.