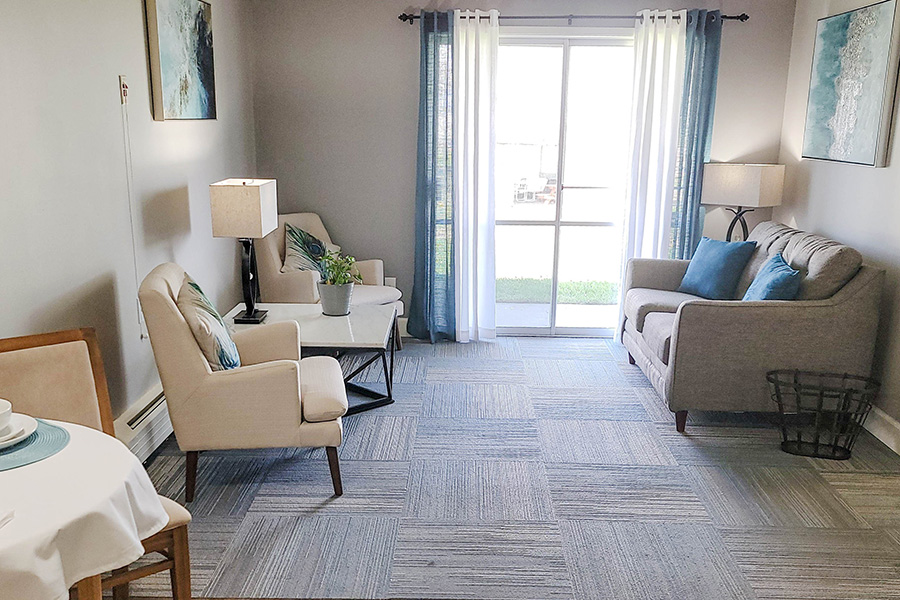 Arbor View Senior Living is more than just a building. It is a community our residents call home, a place built on friendship and a sense of family with residents, their families, the leadership team, and team members. Every day we come together to support each other and renew our bonds for a better future.
Renewal is happening everywhere, all around us, with the return of spring and the construction is underway to enhance our community. With modern upgrades throughout the community and newly remodeled independent living and assisted living apartments ready for move-in, now is the perfect time to see for yourself how we are upgrading the look and feel of Arbor View.
A Modern Community with Old-Fashion Values
The newly remodeled apartments will have upgraded flooring, countertops, and modern appliances in an open floor plan ready to be personalized, just like the services and amenities our community offers. What will never change is the way we nurture our residents in mind, body and spirit. With an abundance of dining options, fitness classes, activities to engage with other residents who share their interests, personalized wellness plans, and inviting indoor and outdoor community spaces, we offer the best in modern senior living with old-fashion hospitality.
The Arbor View Way of Life
Situated atop the best spot in Arvada, Hackberry Hill, with beautiful sweeping views of the city in one direction and the mountains in the other, Arbor View is surrounded by natural beauty but still close to cultural and entertainment venues like the Arvada Center for the Arts, shops, restaurants, and community centers. Within the community there is something for everyone; delicious dining options, numerous activities and events scheduled every week and different ability level fitness classes for everyone. Residents can live an active, full life among friends but with privacy and the support and companionship of our caregiver team.
Our dining experience offers quality food, variety, and most importantly, taste. Every meal is served by attentive team members so residents can relax and enjoy meals with their friends. There are lots of opportunities for residents to gather to enjoy board games, arts and crafts activities, live music, and take local trips off campus. Sharing their interests and hobbies creates a sense of belonging for residents, encourages socialization and keeps them engaged in community life.
Arbor View residents enjoy a maintenance-free lifestyle supported by kind and caring team members who have been with us for many years, providing the continuity of care they would want for their own family members. Our team is dedicated to the well-being and happiness of our residents every day to ensure they have the best quality of life possible. Our remodeling project is one more way we continue to strive to always provide a safe, thriving, modern community for seniors to live life to the fullest.
Want to learn more about Arbor View Senior Living, give us a call at 303-268-4747 or schedule a tour.