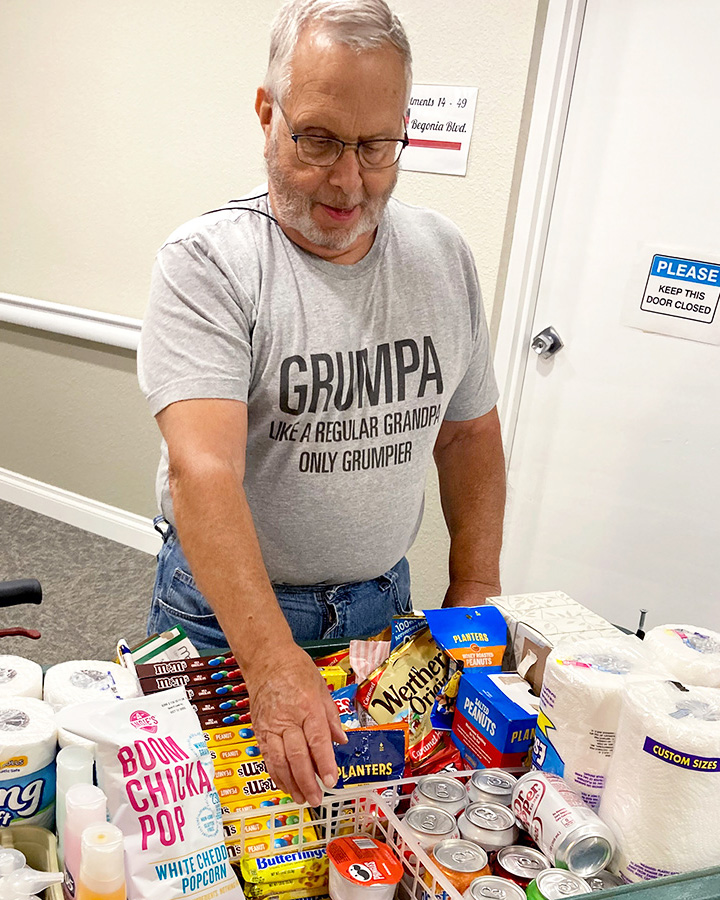 Demand for online shopping and door-to-door delivery services increased during the pandemic. This transformation in the way many older adults shop prompted Arbor View Senior Living to expand the line of products offered on its Country Store cart. The ability to shop onsite with a mobile store that comes to them with everyday essential items greatly benefits the retirement community's residents. It has also created opportunities for residents to get involved at the community level and fill an important role.
Arbor View's Country Store offers residents quick and convenient access to snacks and sundries and saves them time making a trip to the store or waiting for a delivery. Residents serve as "hosts" making sure the cart's shelves are stocked and bringing the store direct to customers to ring up purchases. The volunteer position lets residents get to know their neighbors while providing an essential service.
Resident Jerry D. learned about the Country Store from Jay, who was one of the first new friends he made after moving to Arbor View. Jay was a host and Jerry was looking for ways to get involved in community activities. He has a lot of retail experience to offer and thought it would be fun to run the store part-time.
"I like to stay busy," Jerry says. "I don't like just sitting around and I really enjoy doing it."
The Country Store started out small with just a few snack items but has expanded its offerings to include toilet paper, hearing aid batteries, toothpaste, laundry soap pods, and many more food and beverage products. The most popular items residents have requested are stocked on the cart and their feedback guides the community in deciding what to offer in the future. If a resident asks for something the store doesn't have, Jerry lets Arbor View's team members know about the requested item and they do their best to get it in stock.
Jerry moved to Arbor View because of the great location and for more opportunities to spend time with his peers and people who share his interests. Now he is a regular for bingo and Yahtzee and has a couple of good friends he plays cribbage with when he is not hosting the Country Store.
At Arbor View, residents are encouraged to participate in every aspect of daily life. Providing support for resident-run clubs and organizations encourages community engagement and residents become more than neighbors and form new friendships through common interests. Listening to what the residents want, like the modern-day convenience of the Country Store, and collaborating with them to provide it, is one of the many reasons Arbor View is a wonderful place to retire.
Ready to start shopping for your dream retirement? Call Arbor View Senior Living at 303-268-4747 or schedule a tour online. You can also keep up to date on any special promotions and events by signing up for our monthly newsletter and following us on Facebook.