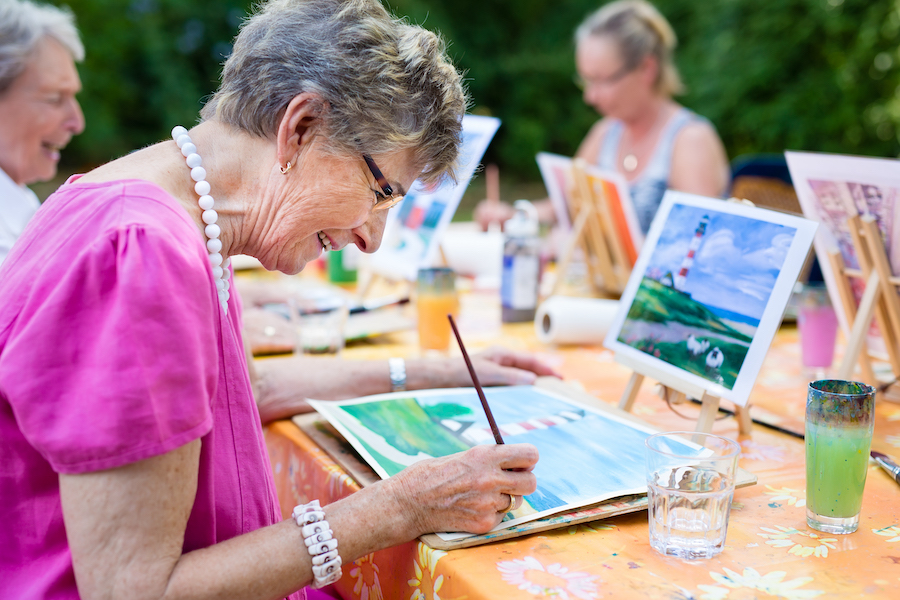 Arts and crafts aren't just for kids anymore. National Craft Month encourages everyone to focus on their creative side and make something purely for enjoyment. People of all ages, especially older adults, can physically and mentally benefit from participating in craft-related activities. In fact, many retirement communities provide a vibrant activities calendar with plenty of creative outlets that are not only fun but offer some surprising health benefits.
Drawing, sewing, and model building are all crafty activities that improve hand-eye coordination and strengthen fine motor movements like dexterity. Research shows that crafting and making art stimulates the production of dopamine, the neurotransmitter that creates feelings of pleasure and enjoyment and can lessen pain levels. Creating art has also been clinically shown to reduce stress-related hormones in the body, prompting a physical response like muscle relaxation and lower blood pressure.
The biggest boost to seniors' health from arts and crafts is mental. Regardless of the medium, painting with watercolors or designing a homemade birthday card, research shows arts and crafts improve mood and increase self-confidence. Artmaking may boost older adults' self-esteem and overall well-being by challenging them to learn new skills, create something unique, and take pride in a finished project. Crafting is also beneficial for those living with depression or insomnia and can help improve mental acuity, thereby reducing the risk of developing dementia.
Residents of Arbor View Senior Living really enjoy our "Art Galore" classes. These weekly sessions allow residents to work with new and interesting mediums like clay, paper mâché, or collage and participate in community bonding activities like making decorations for an upcoming event or holiday celebration.
Providing the materials, opportunity, and inviting space for residents to gather for creative endeavors is one of the many benefits of living in a 55+ retirement community like Arbor View. Our full-time Life Enrichment Director loves coming up with new art-related programs and creative outlets that foster socialization and camaraderie and encourage our senior residents to explore their creativity and let their imaginations flow.  Plus, the maintenance-free lifestyle affords them more time to indulge in new hobbies and interests and boost their overall health.
Ready to start "crafting" your perfect retirement? Call 303-268-4747 and schedule your personal tour today. We're always looking for more makers and DIY enthusiasts to join our independent and assisted living community.