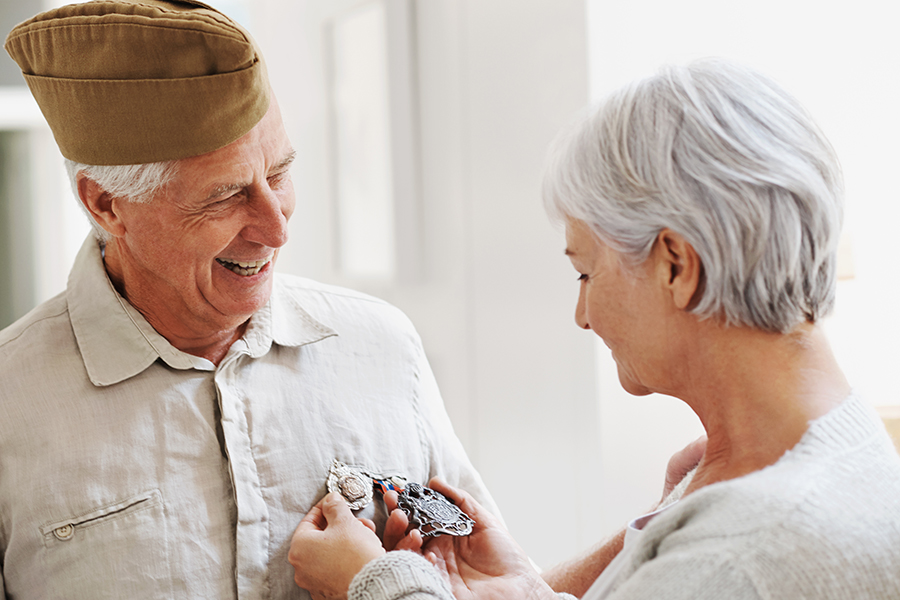 Arbor View Senior Living is fortunate to have several retired veterans and their spouses living in our retirement community. As Veterans Day approaches, we want to thank those who have served in the armed forces for their commitment and sacrifice, plus share stories of two of our veteran residents, Bob Rowley and Tim Snyder.
Bob Rowley
Bob is a Colorado native who was born in Denver. He joined the Army National Guard as a young man and served for 11 ½ years after completing his basic training at Fort Carson. He chose to go active in the Army and was stationed in Chicago where he worked in records for three years. After he was discharged from active duty, he and his wife, Flossie, and their six children moved to Thornton. They also ran a campground in Strasburg and lived in Aurora until retiring to Arbor View.
Bob and Flossie chose Arbor View for the comfortable, affordable apartments, the many services offered, and the great views. Bob has always been very active and according to his wife, "never sits still for long." At 93 years young, he is still going strong!
Tim Snyder
Tim Snyder was very close to his uncle, a Marine Corps veteran, who was like a father to him because his own father was in ill health for most of his childhood. Tim's mother instilled in him a sense of responsibility while caring for him and his siblings mostly on her own. That desire to be responsible for more than himself and feeling a duty to serve inspired him to join the U. S. Marine Corps.
After basic training in San Diego and infantry training at Camp LeJeune in South Carolina, Tim was sent to Vietnam. It was near the end of the war, and he struggled to understand the reasons for it as a young man and dealt with survivor's guilt when he returned home after losing friends in combat.
"I didn't join the Marine Corps to be at war but to help make peace. I'm happy I served and even if I knew then what I know now, I would still probably choose to do so," Tim says.
Tim moved to Westminster 10 years ago to help his older sister who was having hip replacement surgery. He ended up staying and chose Arbor View for retirement.
"I liked it so much once I got here! Right now, it is so beautiful with the fall colors," Tim says.
One way our Arbor View team supports residents with military backgrounds is by actively encouraging them to apply for the Veterans Administration's Aid and Attendance Benefits*, which can significantly offset the cost of monthly rent for our assisted living residences. We also strive to maintain ties with local veterans' organizations, so residents have a chance to give back to veterans in the community.
This Veterans Day, Arbor View will host a special lunch honoring our retired veterans and team members will present them with special certificates that include their names and military service. It's important for us to find special ways to recognize and honor veterans for their time in service. We also strive to show our veteran residents how much we appreciate their service on Veterans Day and every day.
Are you or someone you know a veteran or surviving spouse in search of a senior living community? Call 303-268-4747 or visit arborviewsl.com to schedule a personalized tour and learn more about what Arbor View's veteran-proud community offers.
*Please note that Arbor View cannot determine eligibility for Veterans' Benefits; only the Veterans Administration can determine an applicant's eligibility.