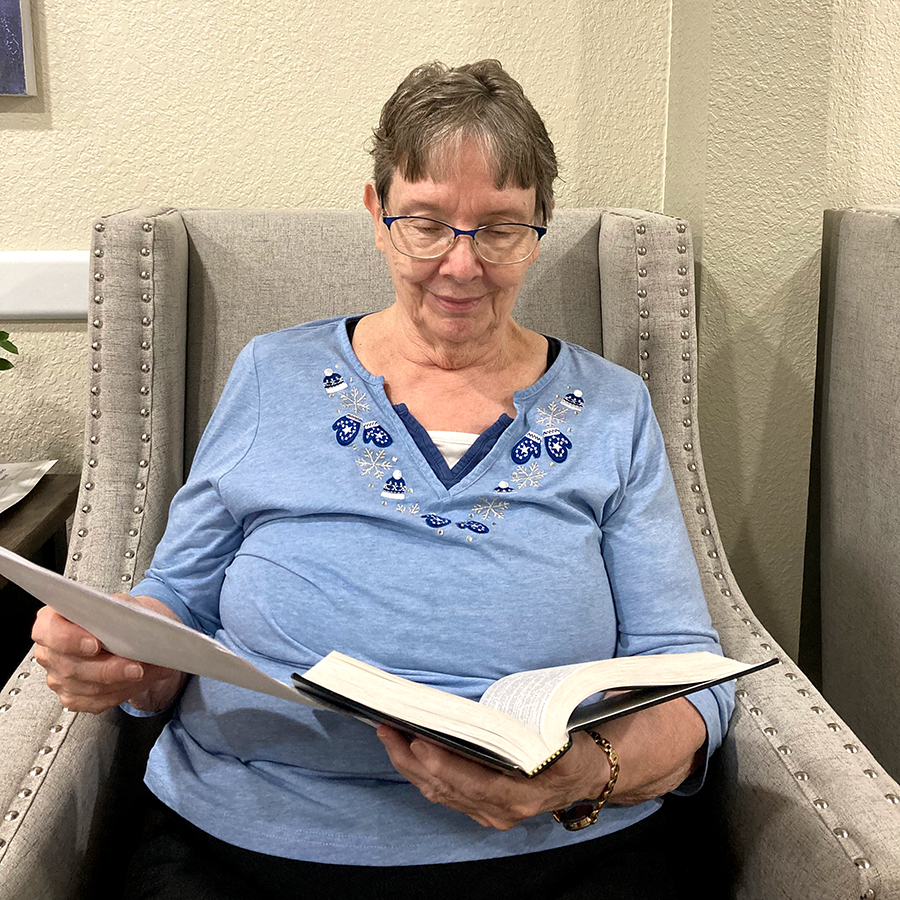 Studies show that spirituality can benefit older adults in a number of ways, including enhanced health and well-being, greater capacity to cope, increased social support, and a deeper sense of community and belonging. The leadership team at Arbor View Senior Living recognized these positive outcomes and created a spiritual group that was inclusive of all its senior residents.
To complement its existing men's group, The God Squad, team members reached out to Laura Heagle, who is very active in her local church, for a recommendation of a pastor who could lead the new group. When they were unable to find a pastor who could commit to regular group meetings, Laura offered up her services.
Laura was familiar with Arbor View long before she became a resident and called it home. Through her church, she had visited the retirement community several times and was impressed by the warm and welcoming atmosphere and liked how team members encouraged residents' interests and hobbies. She eagerly jumped into creating a bible study group with the support of Arbor View's team.
"There are a lot of unchurched people here but most of them have a church and bible study background and want to reconnect with it," Laura says.
After researching a name that, if not as flashy as "The God Squad" still had a nice ring to it, the group became Bible Buddies. Laura, who has been studying the bible her entire life, chooses a devotional to read every week and then encourages members of the group to discuss what it means to them or how it relates to their lives.
Bible Buddies is open to everyone at Arbor View and residents can attend weekly or drop in whenever. Laura hopes the group will continue to grow and that they will find a pastor who can occasionally attend meetings, too.
Residents are encouraged to participate in all aspects of community life and the Arbor View team strives to support their interests and hobbies. That includes scheduling a regular time and place for groups like Bible Buddies to meet but encouraging the residents to take the lead in decision-making and run the groups themselves.
In addition to reading and studying the bible throughout her life, Laura was a teacher, and leading the Bible Buddies group came naturally. After retiring from teaching and losing her husband, Laura felt uncertain about what was next. But after moving to Arbor View, she reconnected with an important part of her past and feels rejuvenated.
"I'm never lonely because I can just go down the hall and visit someone. Now I am back to teaching, and gardening and the Arbor View team is beyond fabulous. I feel very supported here," Laura says.
In addition to the spiritual opportunities at Arbor View, Laura is thrilled with the exercise classes and attends as many as possible. Initially, she went to help with some mobility issues but never expected them to change her life so much. She has a newfound energy and is so committed, that team members have asked her to lead some classes using her teaching skills and newfound enthusiasm for fitness.
When she's not teaching bible study or leading a fitness class, Laura loves working in Arbor View's gardens and is an active member of the gardening club.
"I love gardening and am having a wonderful time out in the fresh air, weeding and tending the plants," Laura says.
Arbor View is committed to meeting the spiritual and physical needs of its residents by offering activities, clubs, and events that cater to their diverse hobbies and interests. These opportunities encourage residents to discover new passions – another reason Arbor View is a great place to retire.
At Arbor View Senior Living, we welcome residents and team members of all religious traditions and spiritual backgrounds. Call 303-268-4747 or visit arborviewsl.com to learn more about our independent and assisted living apartments and schedule a personalized tour.